We are almost done with the school year and I thought it was high time I shared my thoughts on all the curriculum we were using. I should mention that we will not be using any of these choices again next year but that is not because we didn't like them. One main reason is that we want to be more compact for our move into the mission field.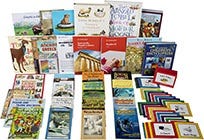 The Sonlight core curriculum has been mostly good. There were a handful of readers that Mister did not really get into but we did find some new favorites. I would definitely use Sonlight again and plan at least get some of the readers from future years. Their book list is very good.
All About Reading Level 1 was a big hit at our house. Mister loved the hands on activities and it all stuck. It is very slow paced compared to Alpha Phonics, which we switched to when he finished level 1. We have been very happy with Alpha Phonics. It is very basic but he has already advanced past what he would have learned over the course of a year in All About Reading level 2 and we are still doing kindergarten at our house. Plus, Alpha is available on the Kindle so that is great for compactness!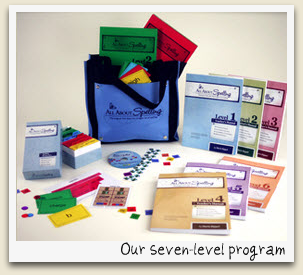 I have to say I am not a big fan of All About Spelling. Some of the beginning activities helped him get started, but it would be just as easy to just have him spell words as he learns to read them. I don't think I would do a spelling curriculum again for Mister.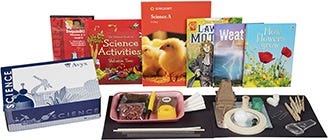 SonLight science was okay. I was disappointing to find that there was a box of supplies that needed to be ordered separately on top of the box that was included. I did not order the extra box. We are nearly done with all the science and have added a large pile of science books besides as we read them all faster than the schedule suggested. I would skip Sonlight Science in the future.

We ended up skipping Horizons math (shown above). Instead we went with Math U See. Mister got it and whipped through the workbook with ease. He did not like the math blocks and we started using Squinkies instead for much more fun and homeschool happiness. I wasn't feeling the Math U See groove this year and with the added fact that they are conforming to common core standards, I will not be purchasing from them in the future.

Handwriting Without Tears was done quickly. It lasted about 1/2 the year but Mister loved it and his handwriting is looking great, when he makes sure to do it correctly and not just mess around. This was a great choice and I am glad that we were able to use it. I would absolutely buy HWT again!
Little Passports got cut in November and we started doing our own series on the blog (World Travels on the side bar). Little Passports was fantastic and I highly recommend it. We just felt that we could spend less and focus more on what we wanted him to learn if we created our own. Plus the goodies we buy are just for him and are things we will actually use and he will love.
Dance also got the boot. We felt Just for Kix was way to commercial. Every dance class they were trying to sell us stuff (t-shirts, bags, ect.). It was hard for Mister because it was all geared toward girls. We did start using some awesome workout apps on the kindle and we have been walking and biking every chance we get.
It has been a great year! We still have a couple of months to go since we are schooling year round. Most of his curriculum is going to be finished this week though. We are going to do a long unit on Little House in the Big Woods. Mister loves the book as far as we have read it and we will be incorporating lots of activities too.
Want to know what we are using for 1st grade? Joins us again tomorrow to find out!